The SAM Difference
Why use a blogging platform to power your website? SAM is purpose-built for managing web pages, not posts.
Industry-Leading Web Content Management
SAM (Site Authoring and Maintenance) web content management system was created by and for communications professionals to put your website back in the hands of your marketing team.
SAM has powered some of our clients' websites for more than a decade. It's seen those sites through multiple generations of site designs and business changes. And with continuous upgrades and improvements under the hood, nothing is more powerful.
See why everyone from non-profits to Fortune 100 companies choose SAM to power their sites.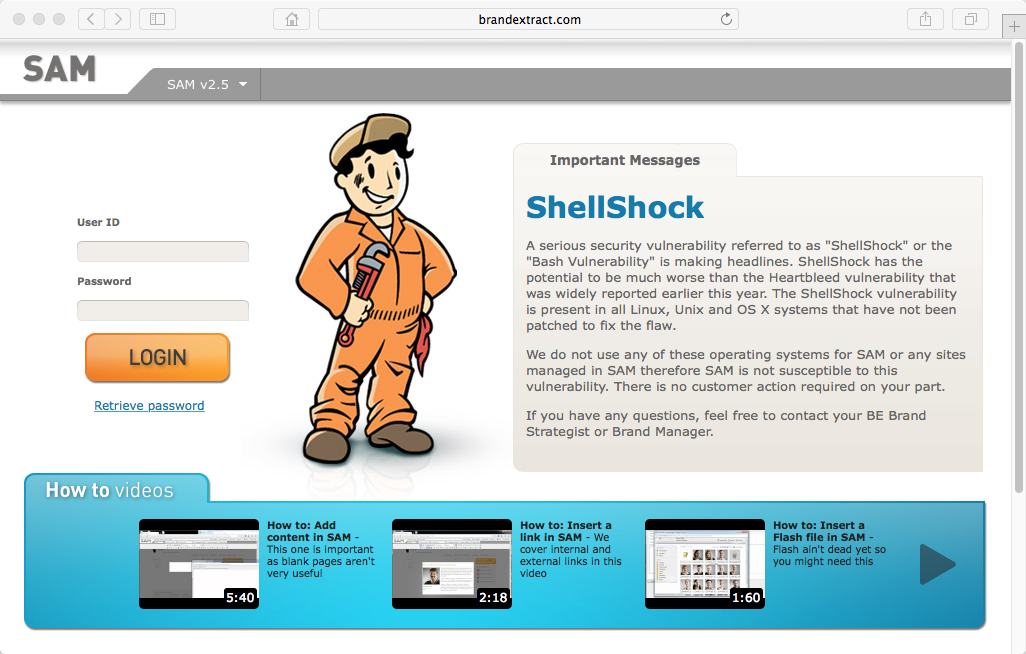 Easy to Learn, Easy to Master
Lots of Web content managers claim a "What-You-See-Is-What-You-Get" editing experience. SAM works so much better that we had to think of a new name for it — True WYSIWYG. Forget navigational "tree" structures; formidable forms; annoying "widgets" and bewildering back-ends. Navigate to the page you want to edit, and make your changes in the context of the whole page, and see the results in real-time.
Unrivaled Flexibility for Developers
SAM takes a totally hands-off approach to code, allowing developers to work in their preferred language and their favorite environment. Simply cut and paste final code into SAM, and it will just work. Yep, just like that. No matter if it's ASP, ASP.NET, PHP, ColdFusion, Flash, Silverlight, JavaScript — you name it. If the application works in the dev environment, it will work in SAM. There isn't a more flexible content manager on the face of the planet.
High Security Standards
We know security is important to you, and we are committed to keeping SAM up-to-date on the latest security protocols. Our developers work hard to ensure there are no backdoors or other system vulnerabilities.
Unmatched Performance
SAM combines the best features of static site generators and database-driven platforms to deliver high-performance websites with lightning-fast load times and none of the drawbacks of dynamically generated sites.
"Swiss Army Knife" Adaptability
SAM plays nice with the best-in-class third party data aggregators and platforms that you're already using, including NASDAQ, BizWire, Salesforce, Marketo, Hubspot, Success Factors, Taleo, Silk Road and SharePoint, just to name a few.
Exceptional Value
SAM provides a more robust feature set and a superior user experience compared to other products in its class. View our pricing packages or inquire about your company's custom needs.
Industrial-strength Managed Hosting
With powerful hosting and scalable storage solutions, SAM effortlessly handles even large websites with demanding content needs. Transfer and manage massive content libraries with ease.
No Traps
SAM publishes out clean HTML files, which means you can always take your site with you to another editor. The transfer is as easy as mapping the old site to the new and importing the traffic. You're never locked in with SAM.
Built-in SEO Enhancement
Because of SAM Entities, a data set format for inserting your content, search engines can find your content easier. We're making it easier to meet the ever-changing Google standards.
Efficiently Generate Content
Our SAM Entities are customizable to your site's needs, and can be set up quickly and easily. Use entity properties across multiple pages, which makes setting up employee bio pages, events and articles even easier.
But wait — there's more!
Take a closer look under the hood and learn more about how we're creating a better experience for content managers and end-users.
---